Opinion World Surveys Review
Name:               Opinion World
Website:            http://www.opinionworld.com, www.opinionworld.co.nz, www.opinionworld.com.au,
   www.opionionworld.co.uk,plus available in another 32 countries.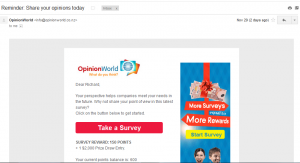 Price:                 Free
Owners:             Survey Sampling International
Overall Rank:     7 out of 10
'OpinionWorld Surveys': Product Overview
They are a worldwide leader for survey companies. They provide survey's to be completed online.  Points are earned for every survey complete – more points for a longer survey.  One entry is also received into their monthly major cash prize draw for every survey completed.
These points can then be traded for cash, donated to charity or traded for more chances to win the main monthly cash prize.
It is a very easy system to use and it is very robust and secure.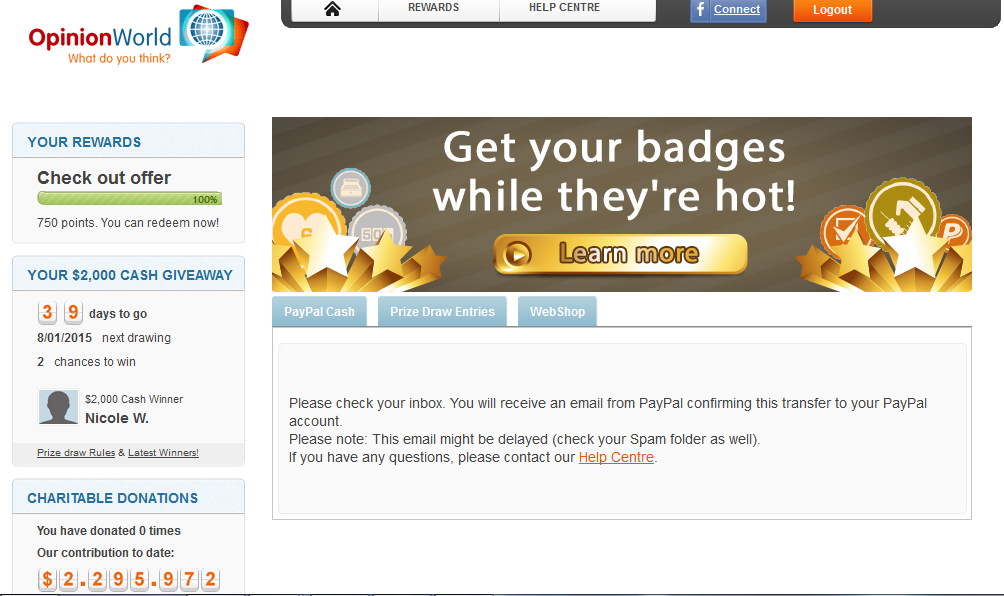 Who are 'OpinionWorld' Surveys For?
Taking these surveys with Opinion World is for any person who wants to make a few easy dollars online. Survey's generally take 5 to 30 minutes to complete and points are earned relative to the length and complexity of the survey.
This can never become a full-time occupation but you could make enough to purchase a few coffee's a month or a present for your child or a text book as a student. It is good for topping up income in a non-stressful and easy way within your own home environment.
They are available in 36 countries and have a number of other linked websites – see details below.
'OpinionWorld Surveys' Positives & Negatives
Positives
Anyone can participate. It does not require a high level of skill or investment in training.
Survey can be done when you have a few spare minutes.
There are options on payments including donating your points to charity or converting them to entries into the monthly cash draw to try and win some more substantial cash – often $1000+. You can get paid once you have earned just $10.
They are good with communication, informing you when good surveys become available.
Negatives
 Quite often there may not be a survey that fits with your demographic. This means you may have time to do a survey but there is nothing available during this time-frame.
The money is small and really only supplements other income. It probably works out about $3 – $5 per hour.
You are giving away a lot of private information about you and your family. Their privacy policies state your personal details are confidential but there is always some risk.
Opinion World Surveys Tools & Training?
They have basic help and tutorials. This is sufficient for the work you are undertaking.
Opinion World Surveys Support
They have internet based support and have responded well to questions when I have required it.
 Opinion World Surveys Price
Joining is free and there are no additional costs.
They pay you via Paypal.
 'Opinion World Surveys' Conclusion and Recommendation
This is a legitimate online opportunity to make a few extra dollars. The company is reputable and enrolling is easy. The work is not demanding and most people will be able to easily complete the survey's.
Overall Rank:     7 out of 10
You can read a review on my #1 Recommendation for making money online here.
Learn more on ways to make money online here.
Opinion World Surveys Details
www.opinionworld.com and 35 other country url's
Survey Sampling International, LLC
6 Research Drive
Shelton, Connecticut 06484, USA
Also:
Parent Company SSI – www.surveysampling.com
Survey Spot Research – www.surveyspot.com
Choozz Research – www.choozz.de/en
Opinion Outpost Research – www.opinionoutpost.com
YourVoice Research – www.yourvoice.co.nz and other derivatives around the world
List of countries websites:   http://www.surveysampling.com/who-we-are/faqs?headerBodyScrollTo=Join
Genuine Opportunity or Not
Legitimate
This is a legitimate opportunity to earn a few extra dollars online. You won't get rich but if you spent a few hours a week doing surveys, you could easily earn $50 – $100 per month. Extra pocket money!
Thanks for reading this review.  I trust you fond it helpful.
Please feel free to leave a comment or ask any questions below.
Richard